You would have thought Leonardo DiCaprio, Hollywood's current heartthrob is basking in the rave reviews and commercial successes of his recently released psycho-thrillers Shutter Island and Inception. But following his telephonic interview with NTMN, it appears that DiCaprio is not at all enjoying the accolades.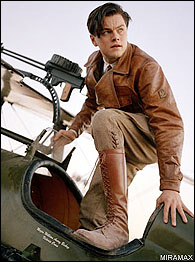 In his own words, he is 'sick and tired' of working with 'challenging, sensible, character-oriented' scripts and would like to move towards more colourful, senseless and sensational cinema, read Bollywood. He said he was moved to tears after watching the English-dubbed versions of
Ram Gopal Varma ki Aag
("Ram Gopal Varma's A** on Fire"),
De Dana Dan ("Give it to me, rhythmically") and the Bhojpuri cult classics Sasura Bada Paisawala ("My filthy-rich father-in-law") and Tohar Khetwa Mein Murga Hamaar ("My Cock is in Your Farm").
The reason? He feels he has wasted time doing 'arty' films like Titanic, 'violent' films like Body of Lies and 'mindless psycho' movies like Inception. He regrets he missed the 'Indian opportunity'. He missed out on the splash of colours, the rhythmic dancing and the unscripted, spontaneous, raw, ethereal charm that oozes out of the mentioned Indian 'masterpieces'. He was inspired and shaken to the core when he watched all four of these movies back-to-back last Saturday.
"The theatre is a place where audiences go to unwind after a hard day of work. And why do we subject them to mental pressure there too? It's pathetic. What have I been doing all these years?" said Leonardo over the phone in the interview, his voice trembling with emotion. He is all set to showcase snippets of these handpicked Bollywood and Bhojpuri 'classics' at the International Film and Theatre Fraternity of Artists Convention to be held in Berlin next Saturday. He has also invited noted Indian cinema personalities like Ravi Kishen, David Dhawan, Priyadarshan and Ram Gopal Varma for the Convention. They are yet to confirm their presence there.
After 'breaking off ties with this hollow, disgusting Hollywood film fraternity' Leonardo DiCaprio aims at spearheading a worldwide movement to spread awareness and gather support for the growth and enrichment of colourful, senseless and sensational cinema.
Off the record, he also stated that he has started shopping and packing his bags for a 'new destination'. "I plan to leave behind my home, family and everything I have ever known and loved in this divine quest of creating meaningful cinema. And yes, I'm also going to leave behind my years of experience, talent and brains as I set off to my journey in the East. I cannot disclose to you where exactly it is that I'm headed, but it's going to be AWESOME! I can feel that it will…" he said.
Analysing this interview, a little-known critic told NTMN, 'Subah ka bhoola shaam ko ghar aa raha hai, toh use bhoola nahi kehte! ("The morning's forgotten is coming back in the evening. So we don't call him forgotten!"). This might as well be the title of the first film he makes on his 'divine quest for meaningful cinema'.
Statutory Warning
- This was a highly politically incorrect article you just read.

The above lines may/may not be true (You have to be the judge) But they're based on and inspired by true events. So don't hang me!